Ōtepoti Dunedin Embroidery School 2023
18 & 19 March 2023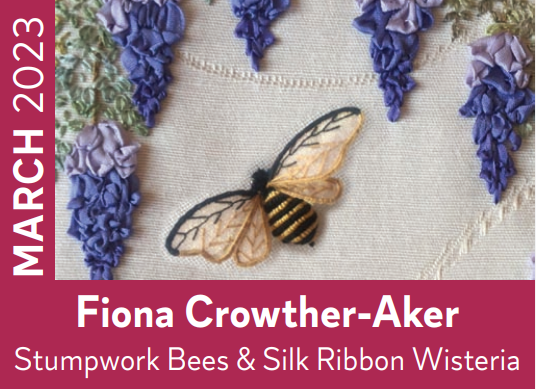 Description
Students will work on the bee on one day and the wisteria the second day – some may complete most of it on the weekend in this time.
Techniques used: Stumpwork & Silk Embroidery
Size: 11cm x 22cm worked area
Level of skill required: All levels
Tutor Profile
Fiona is a member of The Aoraki Embroiderers' Guild Timaru, and has been designing / tutoring needlework for about 15 years. She hopes to offer her students comprehensive instructions to complete their project. Fiona enjoys teaching what she stitches and the way she stitches it, and to be clear for students to achieve a finished project .
Registration Cost: $150.00 class fee
Kit Cost: $55.00
Comes as a full kit for $55 and there will be a selection of different shades of purple depending on the availability of silk ribbon
A Needs List, if required, will also be provided upon confirmation of registration and payment.