Ōtepoti Dunedin Embroidery School 2023
09 & 10 September 2023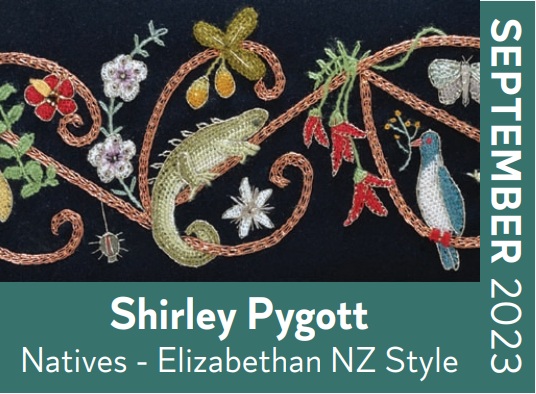 Techniques used: laced chain braid, needle woven picot, detached buttonhole 4 ways – plain padded, overlaid and with colour change. Various surface stitches – split, padded satin, french knots, whipped chain fly, detached chain and stem stitch
Size: 19cm w x 9cm h
Level of skill required: Experienced in this technique
Shirley has tutored embroidery classes for more than 16 years in New Zealand, on three international cruises and was the ANZEG National traveling tutor in 2019. Shirley enjoys using a wide variety of techniques including surface stitch and exploring colour, pattern and texture in her work. Shirley completed both the ANZEG Diploma of Embroidery and the Diploma of Embroidery Teaching and has won many regional and national awards. Shirley is known for her low stress approach in her classes.
Registration Cost: $150.00 class fee
Kit Cost: $45.00
A Needs List, if required, will also be provided upon confirmation of registration and payment.