Ōtepoti Dunedin Embroidery School 2021

19 & 20 June, 2021
Description:
Stitch a Blackwork Walled Garden using two styles of Blackwork. The walls have flowers and bugs around them stitched in a freestyle form of Blackwork. Most of these images are taken directly from a 16th Century English pattern book. The garden beds in the centre are stitched in more modern, diaper filling patterns. The circles represent topiary trees, and some have fruit hanging on them.
All of the stitching is completed using DMC (black) threads in different weights. Gold beads are used as highlights on some of the plants around the walls. This piece is stitched on 32 count evenweave fabric.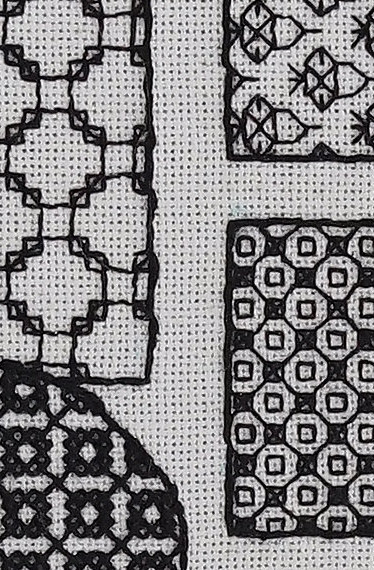 A kit will be provided with all of the threads, beads and fabric to complete the stitching. The fabric will have the pattern for the walled section pre-printed on it. There will be no pre-work for this class.
Tutor Profile:
I love to stitch. I have been seriously stitching for the last 10 years, recently designing my own work. I love the challenge of exploring my ideas, working through design, composition, colour, stitch and materials to bring my ideas out of my imagination so others can see them. Recently I have been fortunate to share my love of stitch through teaching. I love sharing my knowledge and giving others the opportunity to express themselves in stitch too.
Class Cost: $110.00
Kit Cost: $70.00 (Includes printed linen, all threads, needles, beads and comprehensive notes.)
Venue: To Be Confirmed (Dunedin)